Professional, UKAS-Accredited Asbestos Surveys
"As the asbestos specialist, Core Surveys provides asbestos surveys in London, Surrey, Brighton & Kent as well as Bristol and South Wales, including Cardiff and Swansea. With offices in Sussex and Wales, we're perfectly placed to cover both the South East & South West, offering a full range of both residential and commercial asbestos surveys. We also provide asbestos testing (except for soil analysis and water absorption)."
Under current legislation, there is a duty to manage asbestos in non-domestic premises and the communal areas of domestic dwellings. In order to manage asbestos, an asbestos survey will often be required.
A UKAS Accredited Asbestos Company
Core is UKAS accredited to ISO/IEC17020 for undertaking all types of asbestos surveys and ISO/IEC17025 for the analysis of samples and asbestos testing (excluding water absorption & soil analysis). We specialise in the three recognised types of asbestos surveys, as set out in HSG264 Asbestos: The Survey Guide, within a wide variety of building types including commercial and domestic. The type of survey you require will differ, depending on the reason for the survey and will vary during the lifespan of your premises, meaning several may be needed over time. If you are purely looking to comply with legislation then you will require an Asbestos Management Survey but a more intrusive survey will be required if you are undertaking refurbishment or demolition, often referred to as an asbestos refurbishment or demolition survey.
All of our asbestos consultants and surveyors hold the P402 proficiency certificate as a minimum standard with most also holding one or more of the following certifications: P401, P405, P406, S301 or CoCA. Our surveyors also hold CSCS cards, are DBS checked and are fully trained in general health & safety, working at heights, lone working and confined spaces etc.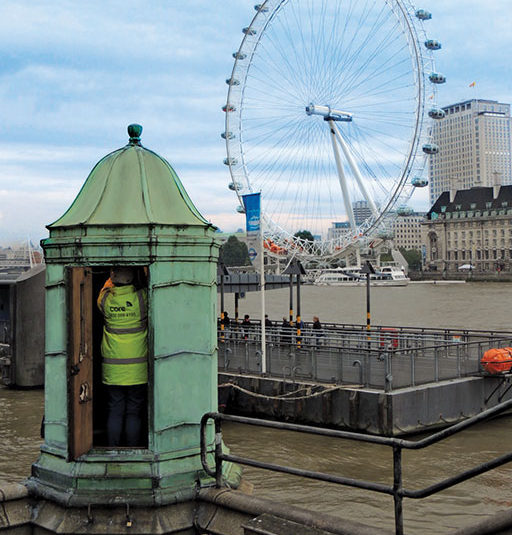 Refurbishment or Demolition Surveys
When a building (or part of it) is being refurbished or demolished, an asbestos refurbishment or demolition survey will be required. These surveys can be very intrusive and may cause significant damage to the fabric of the building and this should be given full consideration prior to instructing the survey, particularly where the planned works are not due to take place immediately following the survey.
HSG264 Asbestos: The Survey Guide sets out the refurbishment or demolition asbestos surveys as follows:
A refurbishment or demolition survey is needed before any refurbishment or demolition is carried out. This type of survey is used to locate and describe, as far as reasonably practicable, all asbestos containing materials in the area where refurbishment or demolition work is taking place.
Asbestos Management Surveys
An asbestos management survey is required to ensure continued management of the Asbestos Containing Materials (ACMs) in situ during the normal occupation and use of the building. An asbestos management survey covers both routine and simple maintenance work. If there is insufficient information in the management survey due to more extensive repair or maintenance work being involved, you will be required to have a localised refurbishment survey.
HSG264 Asbestos: The Survey Guide sets out the management asbestos survey as follows:
An asbestos management survey is the standard survey. Its purpose is to locate, as far as reasonably practicable, the presence and extent of any suspect ACM in the building which could be damaged or disturbed during normal occupancy, including foreseeable maintenance and installation, and to assess their condition.
Asbestos Management
Core is the specialist in asbestos management. At Core Surveys, our team of asbestos consultants will apply their professional experience and expertise to assist with any on-going monitoring and control of asbestos within your commercial or residential buildings. This will include asbestos reinspections at the required intervals and coordinating any required remedial work, including removal and disposal of asbestos.
Control of Asbestos Regulations 2012: The Duty to Manage Asbestos
The Control of Asbestos Regulations 2012 (CAR2012) set out the Duty to Manage Asbestos. This imposes a duty of care for asbestos management within non-domestic properties and the communal areas of domestic dwellings.
In order to deal appropriately with asbestos, your property may require an asbestos survey to be carried out, known as an Asbestos Management Survey which will highlight any asbestos and will indicate if any remedial works are required.
The asbestos regulations also specify that if you are carrying out major refurbishment or demolition work, an asbestos survey should be undertaken prior to these works taking place. This is also supported by the Construction Design Management Regulations 2015 (CDM2015). In this instance it would be necessary to carry out a Refurbishment or Demolition Survey.
At Core, our asbestos surveyors are P402 qualified as a minimum standard and carry out all asbestos surveys and sampling in line with HSG264 guidelines and in accordance with our UKAS Accreditation.
Our asbestos survey reports include risk assessments and recommendations, which are given to you in an easy-to-follow digital format.
Once you have an asbestos survey you may require an asbestos management plan, asbestos awareness training or remedial works of some kind. Or alternatively, you may already have had a survey carried out and just need some further advice.
"The HSE strongly recommends the use of accredited or certificated surveyors for asbestos surveys. The duty holder should not appoint or instruct an independent surveyor to carry out a survey unless the surveyor is competent."
HSG264 Asbestos: The Survey Guide