Our in-house UKAS accredited asbestos testing laboratory enables us to offer a cost-effective asbestos testing and bulk analysis service with a fast turnaround of samples.
Whether you require asbestos bulk sampling on a regular basis or a one-off sample analysis service, our team of laboratory analysts will be happy to assist.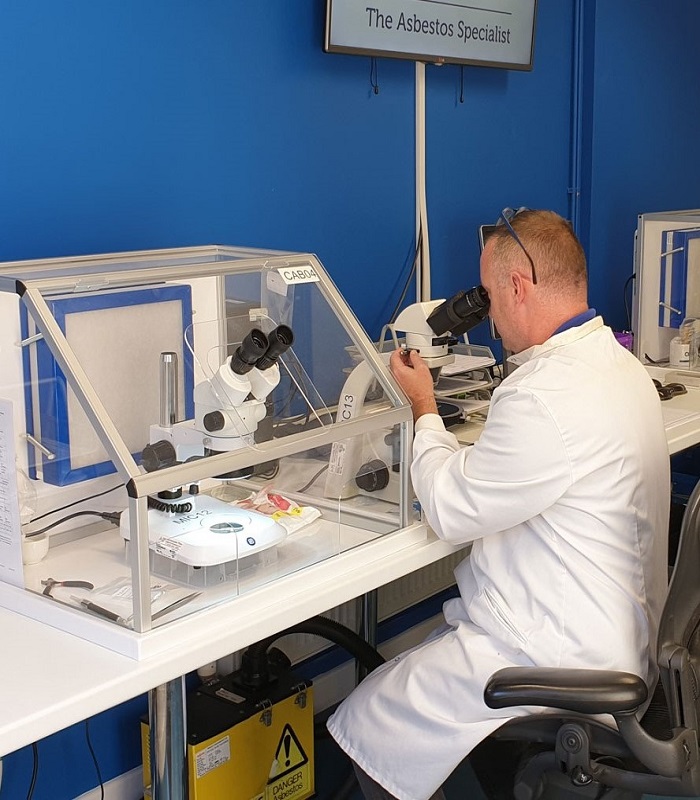 Following the asbestos testing and analysis, a certificate is issued which clearly shows whether or not asbestos is present and where applicable, which types of asbestos are present.
In-house asbestos laboratory
Our in-house UKAS Accredited asbestos laboratory ensures that we are able to offer our clients a cost-effective and efficient turnaround on all asbestos testing and sample analysis.
Asbestos laboratory testing and sampling service
Particularly in the case of domestic clients, an asbestos survey can be more than is required so if you are simply looking to find out if one particular product within your property contains asbestos then our asbestos lab testing and sampling service may be more appropriate.
How are asbestos samples collected?
An asbestos surveyor will visit your property and take the required sample which will then be analysed in our in-house UKAS accredited laboratory and, following analysis, you will be provided with a certificate confirming if asbestos is present.
At Core, our asbestos surveyors are P402 qualified as a minimum standard and carry out all asbestos surveys and sampling in line with HSG264 guidelines and in accordance with our UKAS Accreditation.
Our asbestos survey reports include risk assessments and recommendations, which are given to you in an easy-to-follow digital format.
Our asbestos surveyors
All of our asbestos surveyors are directly employed and hold the P402 proficiency certificate as a minimum standard with most also holding one or more of the following certifications: P401, P405, P406, S301 or CoCA.
In line with our UKAS accreditation, all of our asbestos surveyors have undergone our own in-house training and follow our surveying and quality procedures.
Our surveyors also hold CSCS cards, are DBS checked and are fully trained in general health & safety, working at heights, lone working and confined spaces etc.  We hold Employers Liability Insurance, Public Liability Insurance and Professional Indemnity Insurance.
Sample Analysis FAQs
What is asbestos testing and analysis?
It is the process of determining the presence and type of asbestos in a sample of material. Analysis must be undertaken by a UKAS accredited laboratory (United Kingdom Accreditation Service).
Why is asbestos testing and analysis necessary?
It is necessary to identify if asbestos is present in a property, so that appropriate measures for its management and removal can be taken.
How is asbestos testing and analysis conducted?
Asbestos samples are collected by a suitably qualified and experienced asbestos surveyor and sent to an UKAS-accredited laboratory for analysis.
Who is qualified to conduct asbestos testing and analysis?
A qualified and experienced asbestos surveyor will attend the property to safely remove a small piece of the suspect material which will then be taken to the laboratory. A laboratory analyst will then prepare the sample for analysis, then using polarised light microscopy the sample will be analysed. A certificate will be issued confirming whether asbestos was identified, and if so, what type.
How accurate is the asbestos testing and analysis?
The testing and analysis are highly accurate. Laboratories MUST be accredited by United Kingdom Accreditation Service to ISO 17025 and analysts must have the BOHS P401 as a minimum qualification. UKAS accredited companies work in line with stringent quality and operating procedures.
What types of samples can be tested for asbestos?
Any material that is suspected of containing asbestos can be tested, such as insulation, flooring, roofing, and more.
How long does it take to get the results of asbestos testing and analysis?
The turnaround time for results will depend on the laboratory, but it's generally within a few days, but can be as little as two hours in an emergency, from the point at which the sample is received.
What kind of certificate is issued after asbestos testing and analysis?
A certificate is issued which clearly shows whether or not asbestos is present and, if applicable, which types of asbestos are present.
What should I do if asbestos is found in my property?
If you had an asbestos survey undertaken then the report will contain recommendations, but in any case, it's important to seek advice from a qualified asbestos surveyor or consultant who will be able to advise on the most suitable and cost-effective solution. If asbestos is in good condition then it may remain in situ, so no action may be necessary, but in cases where the asbestos is damaged then it may need to be removed.