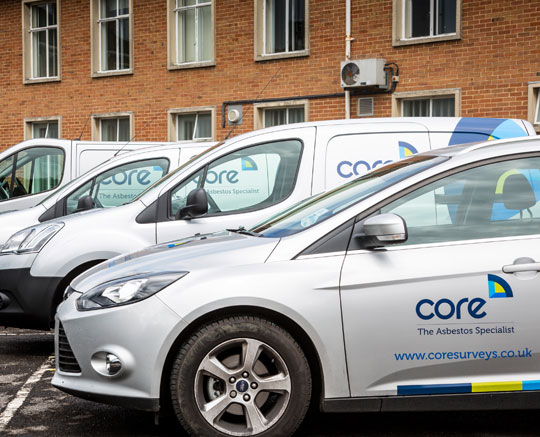 Asbestos Surveys in London, the South East & South Wales
Established in 2004, as the asbestos specialist, Core has extensive knowledge and experience in the asbestos industry. We are UKAS accredited to ISO/IEC 17020 and ISO/IEC 17025 for undertaking all types of asbestos surveys, sample analysis and asbestos air monitoring, covering London, South East, South West and Wales. We have offices in the South East and South Wales and provide the full range of asbestos consultancy services.
Our Asbestos Consultancy Services
We Provide the full range of asbestos consultancy services
Asbestos Management Surveys (formerly Type 1 and Type 2)

Asbestos Refurbishment Surveys (formerly Type 3)

Asbestos Demolition Surveys (formerly Type 3)


Asbestos Reinspection Surveys

Asbestos Management and Consultancy

Asbestos Sample Analysis (Bulk Analysis)

Asbestos Air Monitoring including 4 Stage Clearances

Asbestos Awareness Training Courses

Asbestos Removal Contractor Compliance
No matter whether you are a government body, large private organisation, charity or homeowner, we are here to help you comply with the most up to date asbestos regulations and legislation.
"The HSE strongly recommends the use of accredited or certificated surveyors for asbestos surveys. The duty holder should not appoint or instruct an independent surveyor to carry out a survey unless the surveyor is competent."
HSG264 Asbestos: The Survey Guide